Welcome to our stud dogs page.
Click on the View More Details link for the pedigree and show results.
*Leberhine Joker AZ
is now available to approved bitches.
Joker is a large, strong masculine male. Very good head. Excellent pigmentation and colour. Very good over and underline. Very good front and hindquarter angulation. Excellent temperament.
Swiss Reserve Youth Seiger *Nilson vom Wildsteiger Land aZ H-Neg dob 15/2/2000, was imported from Germany and bought directly from Martin and Maria Gobl of Wildsteiger Land Kennels -Wildsteig Germany. Thank you very much Martin and Maria for allowing us Nilson.
From day one on his release from quarantine, he has fitted into our family, including taking up all of the room on the settee, we are allowed to share the settee but have to put up with either his head on our lap and/or big kisses - at least his breath doesn't smell!!!!. Although he is now 9 years old, our family and friends still maintain that he is 'a puppy at heart', maybe a dog reincarnation of Peter Pan. The majority of his progeny are the same.........as the French say, Nilson and his pups possess 'joie de vivre'.
Nilson is from a long line of top-producing males and females. He is line-bred to the following:
Marit vom Wildsteiger Land (3-3)
Seiger 1984 & 1985 Uran vom Wildsteiger Land (4-4,5,4)
Seiger 1993 Jeck vom Noricum (5-3)
Mark vom Haus Beck (5-4)
Q litter - Quina & Sieger 1986 Quando vom Arminius (5-5)
&
Fedor vom Arminius (5-5)
His father is the 2001 Swiss Sieger Nils vom Wildsteiger Land. Nilson is a full litter brother to VA Nanda vom Wildsteiger Land and V Nata vom Wildsteiger Land.
We thank and congratulate the breeders of Australia that have used Nilson, and found success with his progeny in conformation and obedience rings, sheep-herding, the Police Force and the RAAF, and most importanly as valuable members of the family. Nilson is still being used at stud at 9 years of age. He is most certainly one of the few dogs in South Australia to have such a long stud career. His progeny, and his grand-children are still enjoying success in various disciplines outlined in other pages of this website. (Refer to the Results page for updated information).
Our purpose importing animals is to compliment not only Leberhine's stock, but also for intuitive breeders who select our dogs for stud. Our dogs possess attributes which will improve on specific points and are 'family typical'.
(RIP JAZ)
Unfortunately for us, *Lindanvale Ritzi AZ died on 26th May 2008. Her spirit will live on through her progeny and in our memories. Ritzi was paraded in the Veterans Class at a show held by the German Shepherd Dog Club of South Australia at eleven years of age and still knew how to 'show-off and strut her stuff'!!!!! After her retirement from the show-ring we knew her by her new nick-name 'coffee-table' but despite her age, Ritzi still let the whipper-snappers know 'who is the boss'! Thank you to Danny and Linda Wilson of Lindanvale Kennels - England, for the opportunity of purchasing such a lovely bitch. Ritzi is one of the very few bitches to be graded Excellent at an Australian National being over 7 years of age. Her litter sister Lindanvale Rina was awarded the title of Siegerin at an English National.
As those in the 'conformation world' know, Jaz is retired from the show-ring, although he reached the ripe old age of six years. We are extremely pleased with his sires progeny group presented at a National: extracted from the GSDC Quarterly National Review - March 2006: *Leberhine Ijaz A (1:1) Z Normal (00)Hneg.
Linebreeding Uran Wildsteiger Land (4,5-5). 5 animals entered 5 presented: 1 male, 4 females. Sire present.
This is the first time this sire has presented a group at a National Show or Main Breed Exhibition. The group is above medium size, substantial with very good strength of bone, well-coloured and of very good type. Ideally the length of the neck should be a little longer. Well-formed heads with very good breadth of skull and strength of foreface. Very good eye colour and ear carriage. Good withers, firm backs, slightly short croups. Slightly deep chest proportions. Very good firmness of elbows and hock joints. During movement shows very good ground-covering, expansive gait and shows a great joy in running. While the group is small in number, it is a group of well-constructed animals which are anatomically far better than the sire. The NBC Executive shall watch with interest the future development of this group.
Leberhine Ijaz is deceased. His progeny are producing.
NBC Chairman Ms Joylene Neddermeyer praised Leberhine Ijaz at a Breed Survey 2012 complimenting Jaz's grand-children and said " this sire should have been used more."
Leberhine are very happy with the critique of Jaz's sires progeny class at the 2006 National - we breed and/or purchase animals to enhance our's and other breeders' bloodlines. Our stud dogs and breeding programme aims to specifically produce animals anatomically superior to their parents.
*****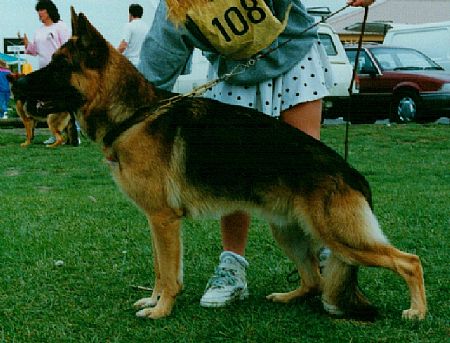 *Ch Crudgells Jojo
(RIP)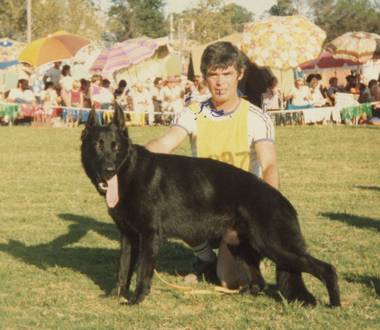 *Leberhine Kanto
(RIP)
*******************************************************
Eigenshaft Frida - Tracking Champion
Frida died shortly after attaining her title.
Below is obit from her owners Fran & Tony Gollan and edited by Dawn Evans:
She had many titles Ditzy Dora, Tracking champion, Miss silky ears, but the best title of all was friend.We were not looking for another dog but we had gone to see Hugh Garvican, who was a friend of mine who owned Leberhine German Shepherd Kennels. I saw Fraidie jumping up at the wire and told Hugh I loved the look of her, he said go in and see how you get on with her, to say the least we got on very well. Hugh told me Frida was his wife's dog. His wife had recently died tragically. Hugh stated if I wanted Frida I could have her. I took her. My husband Tony, put up a valiant fight against having another dog - total three - Tony lost.Fraidie aged eight months came to our place and started to work her way into our hearts. Fraidie hated obedience, the best part was coming home. However Fraidie did like tracking. Our problem was Frida liked both Tony and I. Once I was on the end of the tracking harness Tony would be somewhere else. Frida liked us both and if one of us wasn't there, she wasn't sure if she wanted to 'this tracking lark'. Fraidie got accustomed hence her Tracking Title. Frida was a great representative of her breed with a wonderful temperament and a character second to none. I weighed up doing 'Search and Rescue' with Fraidie as she was only eight. Unfortunately, life had other ideas. We lost Fraidie to blat on 25/7/11, she was operated on but lost the fight. She has left a hole in our hearts that can never be filled, I know their will be other dogs but they will never be our beautiful Fraidie. Love your dogs.....you never know when they will be taken away from you.